Galileo provides turn-key LIDAR (LIght Detection And Ranging) imaging services: aircraft, LIDAR Sensor, digital orthophotos and various topographic mapping products, including:
Point clouds file (ground, canopy and intensity)

Contour mapping and topo maps

Fusion with digital orthophoto or hyperspectral imagery

3D modeling and volumetric calculation
LIDAR-Hyperspectral Fusion
Combining high spatial resolution LIDAR data with the unique capability of hyperspectral imaging improves the data by adding a 3-D perspective. Galileo is one of a few companies providing highly accurate fused image data products.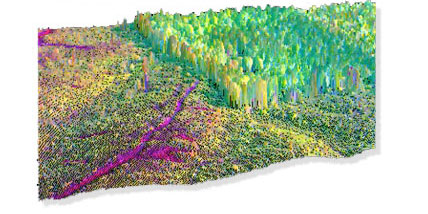 Note: LIDAR physical survey operations are performed primarily for vegetation management purposes and are conducted working through an appropriately licensed professional land surveyor and/or civil engineering prime as part of an integrated team when structure and/or land survey information is generated and reported within the USA.