Coastal Mapping
• Aquatic Vegetation Mapping
• Coral Reef and Wetland Monitoring
• Oil Spill Mapping

Agriscience
Precision Agriculture | Species Mapping | Phenotype Data
Vegetative Mapping & Environmental Monitoring
Invasive Species | Vegetation Management
Exploration Oil, Gas & Mineral
Hydrocarbon Detection | Mineral Mapping | Alteration Mapping
Galileo Group Remote Sensing Services Offer Nearly Infinite Mapping Possibilities Galileo is an advanced technology company specializing in applied hyperspectral imaging and remote sensing services, with over 20 years of experience supporting a variety of high end civil, military and commercial customers in environmental, forestry, agricultural, industrial and biomedical markets. Galileo Group offers a wide range of remote sensing and surveying services including hyperspectral imaging, LIDAR,  digital and thermal imaging with resulting data fusion between these systems to provide hybrid products in various GIS and digital mapping formats. Galileo has extensive experience in preparing and executing large scale national and international projects.
Space Shuttle Columbia Recovery
Large scale mineral and oil exploration projects
Hurricane Katrina/Rita Survey

Support to Middle East Operations
Large Scale Coastal Survey
Invasive and aquatic vegetation mapping
Oil Spill Mapping
Large scale wetlands and coral reef mapping
What is Hyperspectral Imagery:
Hyperspectral imaging is the simultaneous collection of several hundred digitized layers of discrete spectra of all the objects in a given scene within in a given wavelength range. The key advantage of hyperspectral is the ability to discriminate finer spectral differences between target substances using narrower and more frequent channels. This leads to more accurate classification and lower false alarm rates.
Collection and analysis of  many narrow, contiguous  spectral bands across a given range of the electromagnetic spectrum

Measurement of the proportion of solar or artificial light as reflected by all physical objects in a given scene

Hundreds of times more data than digital images or multispectral data

Layers of spectral response are compared, matched, filtered, highlighted against signature libraries and combinations

Search and detection algorithms are developed and applied to assist in pulling out specific phenomenon to derive maps of targets of interest

Many exploitation variants are possible, hence the power and potential of the technology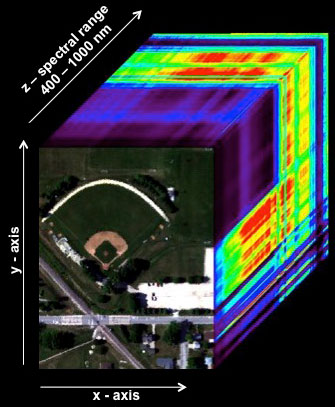 BANDMAX®
Galileo Group is the developer of the BANDMAX® hyperspectral targeting algorithm, available exclusively as part of the ENVI software package sold by EXELIS Visual Information Services.